Call for extended papers in Journals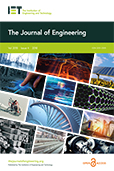 IET The Journal of Engineering
The Journal of Engineering (JoE) aim to collect, publish and promote emerging topics in the field of engineering.
The JoE invites papers for publication on Special Section "Industry 4.0: Infrastructure Developments"
Authors of those accepted papers from UPCON 2020 that fall in the scope of said Special Issue will be invited to submit extended and improved version in JoE for consideration.
All such papers will be again reviewed as per the policy of JoE.
The submission of papers is also open to other researchers/authors who do not have any submission in UPCON 2020.
The Article Processing Charge of the Journal is likely to be waived off.